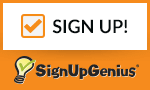 Sign up here to help run the library when we are open. I am asking for 3 different positions:
Helper. Be a second pair of hands for the Librarian on duty. This might include helping patrons find books, checking books out or in, answering any questions, etc.
Librarian on Duty: Normally, this will be me, but if I am unavailable, I will add this to the sign up calendar.
Storytime Reader. 2nd and 4th Friday of each month – geared to younger elementary (Pre-K through 2nd grade). You may choose which books to read. Optional: incorporate other interactive things into the time (music, puppets, etc.)
Behind-the-Scenes Details
For those who like detailed explanations of how to do the tasks for the library, follow the links below!